1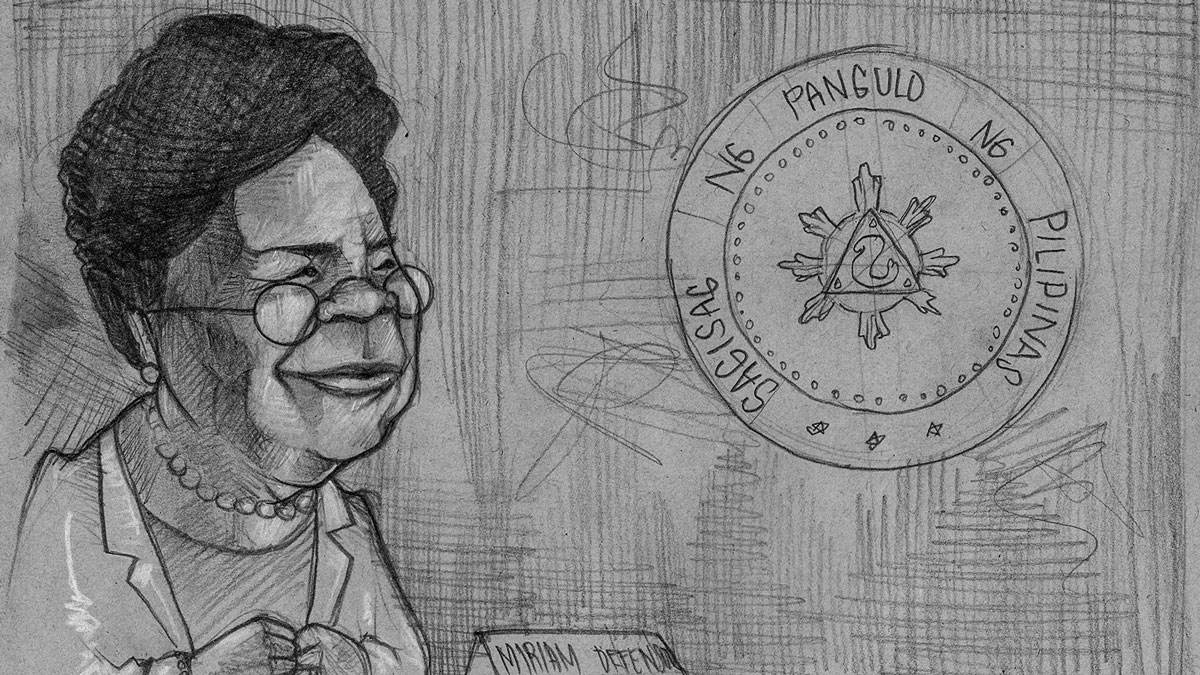 The Last Battle of Miriam Defensor-Santiago
desktop
Her last crusade is not a fight for the presidency. It is a battle for relevance – one that she lost long before the first vote was cast.
---
---
Illustrations by Geloy Concepcion Design by ANALETTE ABESAMIS and DOMINIC TUAZON
---
Our series of presidential profiles, The Imagined President, began with The Idealized candidate, introducing the candidates as imagined by themselves and their supporters. (READ: The Smartest of Them All) The second installment, The Demonized, examined the candidates as imagined by their critics. (READ: The Loudest of Them All). In this final installation, we give you The Candidate, a synthesis of both narratives as seen through the lens of journalism and sociology.
We invite conversation and discussion, and promise, if nothing else, to tell you a story.
T
he senator from the Visayas glories in controversy. Tormentor of the mediocre, the self-styled Jedi out to "fight willy-nilly the superstars of the political underworld," she has no compunction against calling out the feeblemindedness of the people she refers to as intellectual bonsai.
She recommends frontal lobotomies for the "moral retardates" and "fungus-faced" congressmen who oppose her. Poor decorum – "he was looking at me in a provocative way!" – is punished with ejection from the Senate floor. Her insults are aimed with scathing accuracy, against politicians with "the intelligence of political cockroaches," against public relations operatives who are "miserable intellectual amoebas," against princes of darkness in the Senate and cannibals in the Cabinet and the "men of monumental littleness."
The title of her book – Stupid is Forever – may be sold as a joke, but it is the narrative that has arced throughout her career. She has been accused of arrogance, and is pleased by the accusation.
"Yes, I am intellectually arrogant. All intellectuals are entitled to be arrogant. That's the only way they can educate the non-intellectual. Inggit lang sila."
A place in this world
Santiago offers a distinct voice in Philippine politics, albeit one that has become more shrill in the last few years. But beyond the punch lines that her hyperbolic antics bring to the tediousness of legislation – "I have only entertainment value in Philippine politics" – her contribution to democracy is not insignificant.
Her positions have the virtue of occasionally remaining unencumbered by populist sentiment. She was an early supporter of the reproductive health bill, lending her considerable weight to a flagging cause and calling its failure to pass "cruelty to the poor." She has, for example, insisted on following the rule of law instead of "dystopian concept of freewheeling ethics." When it might have been politically comfortable to toe the line of the ruling regime, or to pander to the sentiments of the public, she had savored the position of a disruptor of an emerging consensus. This was evident in her positions in both Estrada and Corona impeachment trials. Her line of questioning to Janet Lim Napoles was equally thought provoking, suggesting that there are bigger fish behind the multimillion-peso corruption scandal.
She is a survivor who has lost two presidential races and now claims 3rd time is the charm. Whether we agree with her or not, Santiago has played a critical role in shaping recent political history, ensuring that politics remains a vibrant political space, instead of an echo chamber of platitude and cliché.
She is correct when she refers to herself as a "renowned celebrity" who, "like a rock star, attracts crowds everywhere" – if everywhere is located inside of a college campus. Her last crusade is not a fight for the presidency. It is a battle for relevance – one that she lost long before the first vote was cast.
Out of the woods
One of the larger criticism against Santiago as president is the state of her health. The American Cancer Society calculates that only a single percent of patients live at least 5 years after diagnosis of Stage 4 lung cancer.
Santiago announced her illness in 2014. In less than two months, she said she had beaten the disease – a claim that flies in the face of all existing medical literature.
There is an argument to be made that to vote for Santiago is to vote her running mate into the presidency. It is one that Santiago herself acknowledged – "If I die before I finish my 6-year term, Senator Ferdinand Marcos Jr will be able to fit that blank."
In a widely circulated open letter, Dr Sylvia Claudio asked for Santiago's medical records, and bluntly outlined the prognosis of Santiago's disease.
Without a miracle, she said, "there is a great probability that you will not survive your 6-year term – should you win."
Santiago denied the request. She called it a human rights violation instead. The same arrogance that informs Santiago's privilege speeches now lends itself to questions about her illness. Santiago refuses to concede legitimate public concern over the state of her health, dismissing requests for her health records as black propaganda, proffering instead the existence of a "miracle pill" that has rendered her "almost normal." She is out of the woods, her illness now irrelevant to her election.
"My cancer should no longer be a concern in the presidential campaign," Santiago said.
Santiago would like the electorate to take her word for it, even after she struggles to complete her sentences in her interviews, after she fails to attend a presidential debate for a clinical trial, after she requires assistance to the podium and asks moderators to repeat the question. Certainly her performance in Pangasinan terrified some of her most loyal of supporters. Her answers were characterized by momentary silences, her weakness emphasized by the valiant attempt to appear vigorous.
The truth is that the public outside of campuses no longer considers Santiago a viable candidate. She continues to rank lowest in a very tight race, at least based on surveys by Pulse Asia, the Social Weather Stations, and Laylo Research Strategies. Santiago has 3% of the vote – almost the same percentage as the margin for error. Her campaign points to Santiago's consistent first among campus surveys.
"When a candidate leads a survey," said Santiago, "it means that she is doing something right in her campaign. But when a candidate is almost unrivaled in a survey, that means voters see something wrong in the other choices."
None of her opponents have bothered to make even a passing effort at engaging her. The questions are no longer about policy and platform.
"How are you today?" asked Rodrigo Duterte.
The smartest of them all
Contrary to the imagined narrative of Santiago being the best president we never had, her career in public service is defined by contradictions. The moral compass of the Goliath in the Senate does not point true – or as true as her public relations team would have us believe.
Santiago has fought to make politics work for poor women by pushing for the passage of both the RH bill and the Magna Carta for Women. While she is one of the champions of the women in the Senate, she also perpetuates the view that the uneducated and illiterate Filipino deserve less rights.
She calls for intellectual discourse and reasoned debate, and then launches into howling frenzies that in a manner the High Court says "undoubtedly crossed the limits of decency and good professional conduct." She speaks with the same vindictive carelessness as Davao City Mayor Rodrigo Duterte, only hers is masked in legal idiom and literary reference. Her admitted hyperbole often involves threats of suicide and homicide. Her language is characterized by personal insults that have little to do with logic and argument – enemies are "retardates," "fungus-faced," and suffering from "mental AIDS."
While she received the prestigious Ramon Magsaysay Award for her "bold and moral leadership in cleaning up a corrupt-ridden government agency," she has lent legitimacy to the candidacy of a corrupt dictator's son by choosing him as vice president.
Marcos Jr is not his father, she says, forgetting that the son happily refuses to acknowledge his father's atrocities.
Down with the morons
Here lies the challenge of romanticizing Santiago. She has constructed a public image of competence and intelligence with a charming irrelevance that speaks to a frustrated public, but she continues to champion the most elitist and ethically selective form of politics. She dismisses the rights of the impoverished masses and perpetuates an illusion that democracy is best run by "the best." She forgets that much of the youth – the crowd she says she speaks for – are not university students but the hopeless sons and daughters of slum communities with zero opportunities to be "the best."
Her speeches cater to an exclusive club of students and college graduates, one she panders to by praising their intellectual superiority while dismissing all others. Her contempt for the same people whose votes she is courting places her squarely among the ranks of elitists whose lack of insight and compassion bars them from truly serving the Filipino people – the same people Santiago herself incited to charge Malacañang Palace after Estrada's ousting.
Her illusion of meritocracy focuses on individual achievement, not the collective effort required to support those without the means to rise. Perhaps this is inevitable. Santiago, after all, is the daughter of a lawyer and a trial judge – "He said we have a lot of relatives who are criminals, so you should be a lawyer." She was born into a family where there was no question of educating an ambitious daughter. Her mother was a career woman "who eschewed housework." Her responsibilities in the household included "supervising the family's untrained village maids."
This is the woman who proposed increasing the voting privileges of "people with certain superior qualities." She forgets that although her intellect may be superior, her background allowed for its expression.
"If a person is a borderline moron, why should his vote equal the vote of a college graduate?" she asked.
Miriam Defensor-Santiago believes in the primacy of the intellect. She stands for reason over emotion. This is the tragedy of the woman who calls herself "one of the most intellectually brilliant leaders in the country." In a country where opportunities are limited and poverty is a watchword, she continues to believe that stupid is forever. – Rappler.com
---
PREVIOUS PROFILES
---
Rappler's presidential profile series maps the narratives presented by both candidates and critics in the campaign for 2016