1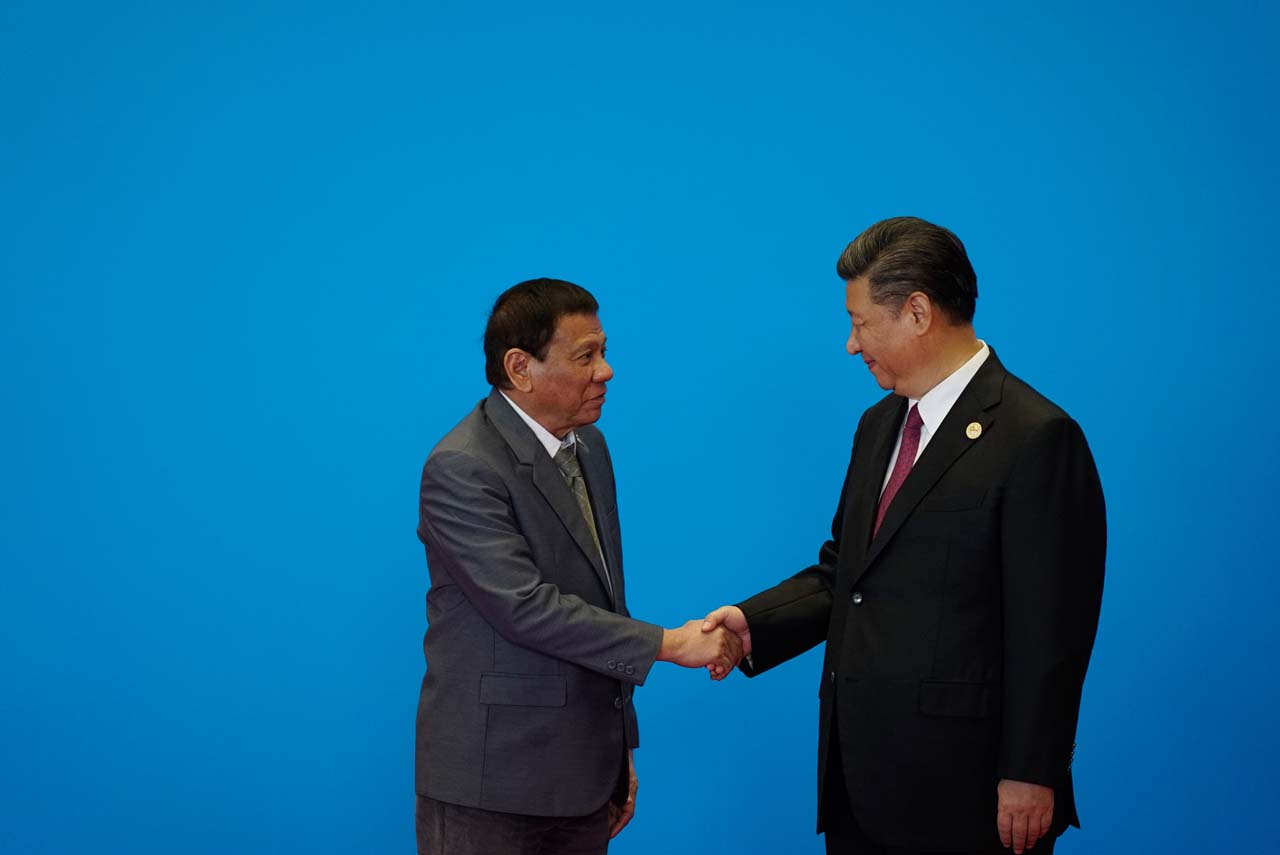 TIMELINE: Philippines-China relations under Duterte
desktop
The Duterte administration lauds improving relations with China. Critics regret the government's inordinately forgiving foreign policy.
---
MANILA, Philippines – President Rodrigo Duterte's warm sentiments toward China are no secret. Most recently, he hailed the benefits of the Philippines' progressing relationship with the Asian neighbor during his 3rd State of the Nation Address (SONA).
"Re-energized" ties with the Asian giant, he said, has led to an "unprecedented level of cooperation" in the fight against drugs.
The recent developments are in contrast to the situation during the administration of Benigno Aquino III when the government pursued legal action over its maritime dispute with China. (TIMELINE: The Philippines-China maritime dispute)
Below is a timeline of events chronicling the "improving" relationships between the two countries.
---
2016
June 30
Duterte is sworn into office. Prior to his induction, Chinese Ambassador Zhao Jianhua has visited Duterte twice – once in May, and again less than a month after. Zhao sees Duterte for the 3rd time 5 days before the Permanent Court of Arbitration (PCA) releases the ruling on the PH-China maritime dispute.
July 12
The Philippines wins its landmark victory against China 3 years after former president Benigno Aquino III filed the arbitration case with The Hague in 2013.
October 18-21
Duterte goes to China for a 4-day state visit, making headlines after Duterte announces on October 20 a "military and economic split" from the United States. The government secures billions worth of deals with China, including business-to-business contracts, public financing agreements, and soft loans for development projects.
Duterte and Chinese President Xi Jinping also agree to pursue bilateral talks on the issue of the West Philippine Sea (South China Sea). In addition, the two leaders sign off on 13 bilateral cooperation agreements. (READ: What Duterte accomplished in China)
November 2
Asia Maritime Transparency Initiative releases images taken at Scarborough Shoal that contradict then presidential spokesperson Ernesto Abella's statement that Filipino fishing boats are "no longer being intercepted." The photos suggest Chinese blockades continue to restrict access to the shoal, with a China Coast Guard (CCG) craft "anchored just inside the mouth of the lagoon."
The center also receives information from the Philippine Navy that 3 other CCG vessels patrol around Scarborough. This comes after the CCG allegedly harassed Filipino fishermen in Scarborough Shoal two months prior.
---
2017
May 14-15
Duterte joins 27 other government leaders in Beijing for a forum on China's Belt and Road Initiative, a proposed trade and infrastructure network connecting Asia, Africa, and Europe. (FAST FACTS: China's Belt and Road Initiative)
Duterte also meets with Xi. Apart from signing 3 non-binding memoranda of understanding (MOUs), they finalize an agreement granting the Philippines P3.6 billion and P360 million for the construction of two bridges over Pasig River and drug rehabilitation centers in Mindanao, respectively.
March 24
Reuters publishes a report citing data showing China's construction on disputed waters. Later on, Duterte says he is helpless to stop China from building on Scarborough lest he sparks a "losing war" against them. (READ: 5 ways Duterte can defend Scarborough without going to war)
November 12-16
China Premier Li Keqiang visits the Philippines, becoming the first Chinese premier to do so in 10 years. During his trip, Li signs 14 deals with Duterte, including the 2017 Renminbi Bond Issuance Underwriting Agreement and an additional P1.1 billion donation for the rehabilitation of Marawi.
---
2018
January 24
The permit granted by Malacañang to China to conduct research in the eastern seaboard of the Philippines (which includes the Benham Rise) begins. Filipinos, Presidential Spokesman Harry Roque says, can't study the region without China's help. (READ: PH researchers explore Benham Rise)
On why China has been allowed to scope out the area, and not other countries also capable of funding research, Roque says only China qualified for authorization, whose terms and conditions have been violated.
February 5
The Philippine Daily Inquirer publishes exclusive photos revealing China has continued reclamation activities in the West Philippine Sea. Islands artificially constructed over 7 reefs in the Spratlys archipelago now host Chinese air bases, naval facilities, and radar and communications systems.
Roque has admitted knowledge of these activities, but is untroubled by them. He cites a promise made by Beijing that it will not conduct reclamation of any other feature in the West Philippine Sea. (READ: Malacañang on China buildup on PH reef: What do you want us to do?)
February 15
Roque says the administration attributes "no bad faith" to China for naming features in the Benham Rise, but hopes they will "understand" that the Philippines does not recognize the Chinese titles and will ascribe Philippine names.
In stark contrast to his stance on other maritime issues, Duterte says he would "go to war" to defend the Philippine Rise. Before this, the President had said he was wary of pressing the topic of the West Philippine Sea, insisting that he had no other choice but to stay on China's good side and avoid conflict.
April 9-10
Duterte flies to China for the Boao Forum for Asia (BFA) and witnesses the signing of documents. Before his departure, Duterte expresses the need for China's assistance in key infrastructure program "Build, Build, Build" and in the Marawi rehabilitation.
"I need China. I will not say something which is not good," he says.
Asked about reclamation activities reported back in February, Duterte says he will continue to rely on China's "word of honor" and is confident that they will not default on it.
April 26
Duterte proposes a "60-40" proceeds distribution with China on joint exploration of the West Philippine Sea, amid fervent criticism that sharing the region would effectively negate the Philippines' milestone win in the Hague and violate the Philippine Constitution. (READ: Joint development in EEZ 'prohibited' – Carpio)
His administration previously expressed its desire to pursue joint gas and oil exploration, citing the 2005 Joint Seismic Marine Undertaking between the Philippines, China, and Vietnam as "precedent." The JMSU, however, was challenged in 2008 and remains an open case in the Supreme Court.
May 11
A Chinese navy chopper harrasses a Philippine Navy rubber boat conducting resupplying efforts at Ayungin Shoal. According to Magdalo Representative Gary Alejano, a chopper of the People's Liberation Army Navy (PLAN) encroached upon the rubber boat and was "so close that seawater splash entered" the vessel.
Asked about the issue, Cayetano believes it is not a form of "harassment," but rather an "incident." Nevertheless, he says a diplomatic protest has been filed.
May 19
People's Daily, a state-run newspaper in China, uploads a video to Twitter, showing several Chinese bombers landing and taking off from Woody Island. The island reef is part of the Paracel Islands and is known to be China's largest base in the South China Sea.
The Asia Maritime Transparency Initiative (AMTI) reports that "nearly all of the Philippines falls within the radius of the bombers, including Manila and all 5 Philippine military bases earmarked for development under the US-Philippines Enhanced Defense Cooperation Agreement."
May 21
The Philippine Department of Foreign Affairs (DFA) breaks its two-day silence on the issue, saying that while it is "taking the appropriate diplomatic action necessary" and will bring up the subject in next talks, it is not its policy to "publicize every action" it takes.
The administration maintained a similar position when US network CNBC reported earlier in May that Beijing had installed missiles in Spratlys. Malacañang, while concerned about the matter, was "confident" that the missiles were not directed at the Philippines.
May 26
After a whirlwind month of incidents in the West Philippine Sea – and amid criticism of a weak and compliant stance toward China – the Philippines silently files a note verbale.
June 8
GMA News obtains footage of the China Coast Guard (CCG) taking the catch of Filipino fishermen.
Fisherman Roseller Latagen says that the CCG would take as much as P3,000 worth of their catch, only occasionally giving something in return. When they do, the CCG typically compensate with two small bottles of mineral water, some cigarettes, or packs of noodles.
Otherwise, they take "whatever they want," often nabbing the best ones, the fisherman says.
In the face of fierce condemnation of the incident, Duterte describes what happened as unbalanced "barter" trade.
July 12
On the second anniversary of the Hague ruling, photos of tarpaulins that read, "Welcome to the Philippines, Province of China," go viral in social media. Strung across several footbridges around Metro Manila, the banners have been labeled by officials to be "the work of government enemies."
The posters are said to parody a suggestion jokingly made Duterte in February for China to make the Philippines its province. Chinese Ambassador Zhao Jinhua has slammed the tarpaulins, saying the Philippines has never been part of China.
July 14
A Social Weather Stations survey finds that 4 out of 5 Filipinos say it is wrong for the Duterte administration to do nothing about China's militarization of the West Philippine Sea.
July 16
Chinese research vessel Yuan Wang 3 docks in Davao City – Duterte's hometown – from the port of Jiangyin. The vessel is used for tracking and support of satellite and intercontinental ballistic missiles, but it is not clear if the vessel is attached to a civilian agency or to the military.
The Philippine Navy says the visit is "routine" and "nothing unusual."
July 17
Chinese Ambassador to the Philippines Zhao Jianhua denies that China is putting the Philippines into a "debt trap" by giving it grants and loans, adding that Duterte's economic team "is smart enough."
Duterte, meanwhile, says China has never asked for any piece of real estate in the Philippines in exchange for financial assistance.
July 23
During his 3rd State of the Nation Address, Duterte vows to defend the West Philippine Sea amid "reenergized relations with China."
"Our improved relationship with China, however, does not mean that we will waver in our commitment to defend our interests in the West Philippine Sea," the President says.
August 3
President Rodrigo Duterte attends the inauguration of a P500-million drug rehabilitation center in Malaybalay, Bukidnon, a donation from a group of Chinese businessmen.
– with reports from Jodesz Gavilan/Rappler.com
Frances Roberto is an incoming freshman at the Ateneo de Manila University. She is a Rappler intern.

Featured photo: President Rodrigo Duterte shakes the hand of Chinese President Xi Jinping at the Belt and Road Forum for International Cooperation in China in May 2017. Malacañang photo