4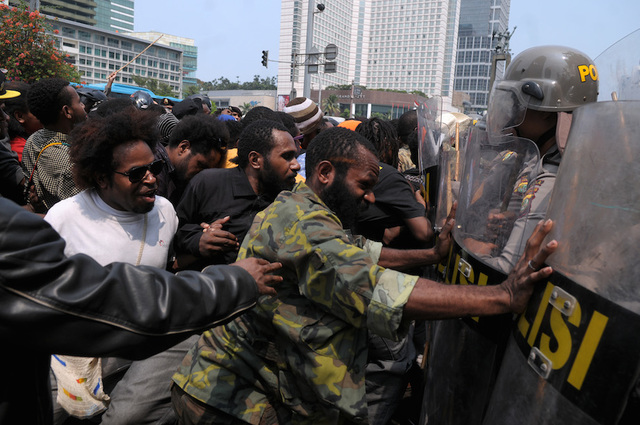 The 'slow motion genocide' happening in Indonesia the world knows little about
desktop
Here's what the Catholic Justice and Peace Commission of the Archdiocese of Brisbane found when they went to West Papua
---
JAKARTA, Indonesia (UPDATED) – A shadow human rights fact-finding mission in West Papua released its report on Sunday, May 1, revealing various human rights abuses that has spanned decades.
"Many spoke of a slow motion genocide," said the report.
In September 2015, the Indonesian government refused a proposal by the Pacific Islands Forum Leaders Summit to send a human rights fact-finding mission to West Papua. So a two person delegation from the Catholic Justice & Peace Commission of the Archdiocese of Brisbane went on a secret mission to West Papua to "present the voice of the people of West Papua," it said in its report.

The report, titled "We will lose everything," talks about how the delegation "heard many stories of bashings, torture, murder, economic hardship, social marginalization and cultural deprivation."
During their visit, the delegation of the Archdiocese of Brisbane also met with eyewitness of the 1969 vote to integrate West Papua into the Indonesian Republic. Witness said the "act of free choice" was non-existent, and they were forced to vote for integration after much intimidation and violence.
In the decades that followed, "Papuans continued to show their resistance and Indonesian security forces sought to quash it."
Some examples of abuse listed in the report include:
On October 25, the West Papua National Committee (KNPB) accused the Yahukimo Police of physically abusing two of its members, Adembo Kobak (24 years) and Yanus Giban (27 years). They had asked a group of 20 people, including police officers, to stop gambling on cock fights. Both were hospitalized as a result of their injuries.

On August 28, the Indonesian military opened fire on Papuans gathering in front of a Catholic church for a thanksgiving celebration. Two Papuans, Yulianus Okoare, 18, and Imanuel Marimau, 23 were killed.

On August 27, Wilhelmus Awom, 26, Soleman Yom, 27, and Yafet Awom, 19, were abducted and severely tortured by police in Jayapura, the capital of Papua province.

On July 17, 12 Papuans were shot by security personnel in Karubaga, the capital of Tolikara regency, in the central highland. One, Endi Wanimbo, 15, was killed and 11 others were injured by the shootings. The shooting was a response to Papuans who had protested.

In the months leading up to the Melanesian Spearhead Group (MSG) Leaders Meeting in Honiara in June 2015, police arrested over 500 Papuans who participated in public demonstrations of support in different towns in Papua. They were showing their support for the ULMWP's bid for membership of the MSG. Some were convicted of offenses and jailed.
The report also pointed out that on May 2015, President Joko "Jokowi" Widodo said journalists would have free access to West Papua but media access is still currently restricted.

Even today, the same treatment has been reported. Almost 40 political prisoners are currently in jail. Other recent abuses include:
In January 2016, 27 tribal leaders in Merauke were beaten severely by soldiers after complaining about not being paid for two months by an oil palm company for which they worked.

A young businessman in Timika, John Haluk died suddenly in 2015, presumably from poisoning. He had paid for the building of the KNPB office in Timika and donated a very large sum of money to support the conduct of the unification talks in Port Vila in December 2014 which led to the formation of the ULMWP.

A West Timorese Catholic priest, Fr. Amandus Fahik, who had served in Paniai since 1996, died in November 2015. He had attracted the attention of Indonesian security forces because he constantly encouraged the Papuan people to protect their land. Many Papuans believe he was poisoned by members of the security forces.

In 2014, the body of KNPB leader, Martinus Yohame, was found floating in a bag off Nana Island after he called for a demonstration to coincide with a visit of President Yudhuyono to Sorong in 2014.

Conflict between young Papuans and Indonesians is increasing and police do not stop fights except to protect Indonesian youths. Young Papuans involved in these conflicts are often targeted for police action subsequently.

In 2013, police randomly rounded up a large group of teenagers and young Papuan men in their early 20s and interrogated them over a particular incident with Indonesian youths. Two of the older youths were tortured by having their toenails removed. The two young men were subsequently charged with offences, convicted and sent to jail.
It also said that "reports and investigations by many credible and respected international authorities confirm the concerns reported to the delegation."
"The delegation heard constantly that Papuans want their right to self-determination," it said.
Despite the serious human rights abuses however, the report said "there is an unmistakable determination to continue to strive for the long cherished dream of freedom." (READ: Papua is not a problem, the way we talk about Papua is)
Recommendations
The Commission recommended several moves including an independent investigation into human rights violations by various governments and the United Nations.

It also asked that governments in the Pacific "pressure the Indonesian Government directly and seek the intervention of the United Nations to establish a dialogue between the Indonesian Government and the acknowledged leaders of the people of West Papua," among others.
It also asked the Australian government to look closer at the "mounting evidence of involvement in human rights violations in West Papua by members of the Indonesian military, police force, including Detachment 88, and intelligence service."
The Australian government trains and funds these units involved in human rights violations in West Papua.
Reactions
A member of regional parliament in Papua province said he supports the proposal for the United Nations Human Rights Council to investigate human rights violation incidents since the Pepera referendum in 1969.
"Violations of human rights in 1969 were terrible. It killed one generation. But, until now there has been no solution to the matter. That's why the aspiration from the Australian Catholic Church needs to be supported," said Yunus Wonda, chair of the regional parliament, on Tuesday, May 3.
Wonda said he expected an international plea for the Indonesia government to investigate human rights violatiosn in Papua. He aslo admitted foreign countries have more data on human rights abuses in Papua compared to the Indonesian government.
"While we are lacking data, the rest of the world has comprehensive information. They even have video," he said.
Wonda also said Papua's issue needs dialogue to solve the problem, including the involvement of many parties including those that oppose the government.
"The dialogue should involve all parties including those who still fight for Papua's independence abroad and live in the jungle. Don't ask us to be involved, because we are bound by our pledge to be part of the government in Papua," he said.
Wonda also said regional government has reminded security officials not to use violence when dealing with demonstrators or other protests.
Meanwhile, reacting to the report, Indonesia's Coordinating Minster for Political, Legal & Security Affairs Luhut Panjaitan told Rappler in a text message, "If there is any evidence, we will conduct an open investigation."
Read the full report below:
– Rappler.com